As written by her daughter Mariavelia Viola
I wonder if Teresa Scorziello (maiden Greco) realized how special she truly was. How great of a mother, grandmother, aunt, sister-in-law, and friend she was. How she could light up a room, how her laugh was loved, how her smile was appreciated, and how she was loved by so many. It is indescribable how kind and caring she was.
My mother, Teresa had an unwavering strength and faith in God. She passionately believed in God with every fiber of her being. She loved St. Padre Pio and asked for His intercession often. My mother loved Our Lady and prayed the rosary daily, multiple times for all of us. We grew up in faith. For years, she sang in the Italian Choir at St. Eugene's chapel on Regina Road off Bathurst, and was the most out of tune singer there, but she still sang with all her heart. She brought her Radio Maria stereo to work and prayed while she worked. She had another at home that was on all the time. Her tape cassettes for car rides were always ready to go with song and prayer. She baked, she fed, she gave, she hosted she did everything she could to bring people together.
For all of us, my mother was our best friend, advisor, and confidante. Her greatest quality was to encourage us to make the best out of everything life had thrown our way and to face all our problems head on. When we had nowhere to turn, she was always there for us. She treasured us. We were her highest priority, and she was our foundation. She taught us all what is really important in life – to love, support and care for family and friends in our lives. She was an immigrant. She immigrated at sixteen, married, left her maternal family, and really knew what it meant to have your back and be the one to support someone. We are all better off for having known her. We will always be eternally grateful for her.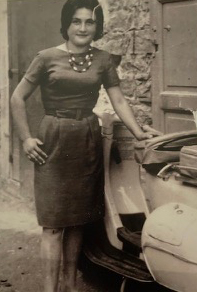 Our family, and her role as mother and grandmother, was the central focus in her life. This is where she drew her strength and left her legacy. Being with her family was what she enjoyed most of all. Her life had many obstacles, and she struggled with a devastating illness. Yet, through it all, her love and care for her family remained, and in so many, many ways, she was able to show that love to us. Her perseverance through adversity is a powerful lesson.
My mother's core motivating force was- LOVE and it was her love that has had a profound impact on the essence of who we are. She impacted her children, her grandchildren, family, and friends and because of this, she lives on in our heart.

Teresa gave us the foundation on which our whole life was built. A calling to live a life of service and to help make the world a better place. This is the greatest lesson she taught us; how to be caring, affectionate, forgiving, and empathetic towards others. She exemplified service; she was the gatherer. My mother wanted everyone around her all the time. We celebrated life. May we always feel love and gratitude for the warm gifts she so beautifully embodied. My mother was a force for spreading good in the world, and her legacy – this compelling force of good continues in us here, whose lives she has touched.
My mother always wanted her grandchildren around her; family was the light of her life. She was the first to give everyone chocolate, along with every sugary sweet, she would always keep a stash ready and available in her cupboard, in bowls, in her pockets and purse. She taught those around her to bake and cook. Her goal was to preserve our Italian heritage. Explaining the traditions behind celebratory meals, and recipes, we all baked while sharing stories of her childhood.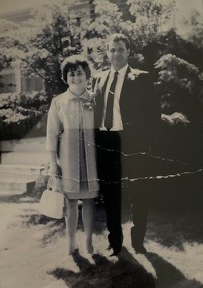 My mother's nickname in Italy was Sessina, she was the eldest of three children. The day of her birth her father Giuseppe Greco fled because he was so upset his first-born was a girl. How times have changes. He did return the following day, and my mother was soon to be the apple of his eye. It was a different era, my mother was not allowed to extend her education past grade 5 because she was a girl and at the age of sixteen, her parents married her off. My parents' courtship lasted 28 days. They were married, and left Italy by ocean liner landing at Pier 21 in Halifax then boarding a train to Toronto. She was only 16 years old. She came to a new land; with a man she knew for only 28 days to live a married life of 54 years all with the hope of having a better life than the one she left behind. Teresa became a wife at the age of sixteen, a mother at the age of seventeen. Life was exceedingly difficult with no parents, no siblings to talk to or have at her side for emotional or mental support. The culture shock, the language barrier and the discrimination were overwhelming. I cannot even fathom the incredible strength she had to have to endure this time in Canada. My mother was fierce. She was a trendsetter and a trailblazer. We did not have much growing up; she stretched the limited resources we had to manage household expenses. She sewed everything, and often the same fabric pattern would have been made into a skirt, pants, and tablecloth. She pushed herself to learn. She took the streetcar to night school to learn English. Remarkably, she was the first to get a drivers license, even before my parents were able to afford their first car. She pushed herself to be independent. She believed that perseverance and effort would pay off.
Times were difficult and my mother worked in a factory in substandard working conditions and worked the midnight shift – eventually we moved from St. Clair and Old Vaughn Rd to Dufferin and Ranee where she began work at Baycrest. She was the cook for many years of a Jewish Retirement home and over time, she became the head cook. She didn't stop there; she also began catering and brought her children and brother-in-law Giovanni along. My mother always helped and trained and brought many family members and friends to learn from her.
Many of her Jewish friends would comment on her great talents, but she knew her gift was from God. Everything she made was outstanding, she would share recipes, but the results were never the same as when she made it herself. She put in all her love when she was in the kitchen.
My mother always believed that both men and women could achieve great heights. She stressed that women could do anything men could do. She believed in equity in education and continually encouraged us all. She was clear in what she wanted and reminded everyone around her, love each other, don't fight, "non bistichiare" and to make her proud.
She never complained and thanked God very day because He had granted her another day, she would often say, today is a good day, "I am alive."
In this life, we are not judged on our weaknesses or the things we have failed to accomplish, but instead we are judged by the way we treat the ones we love, our ability to love them unconditionally, and the strength of the love you let flourish and carry on to all of the people whose lives you've touched by simply creating a meaningful relationship with them. Teresa Scorziello is an example for all of us, she motivated everyone around her to dig deep and find the strength you did not think you had, solely for the people around you that you love.
My mother, over the past few years was awe-inspiring. She who never sat still was forced to confront stillness, and it was hard for her, but she never complained, and she never asked for pity. She fought and she fought right up until her last breath.
Her incredible tenacity had showed up in her strong will to live with this terrible disease for over six years. She participated in every clinical trial Princess Margaret offered, making connections, and building relationships with the numerous nurse's doctors, scientist, and support staff. She valued each one of them and told them often. My mother always thanked her doctors for going to Medical School and dedicating their lives to find a cure for cancer. She was always so grateful that they were able to lengthen her life.
We cherish the memories we had with Teresa Scorziello and honor her memory by doing good things for others. This is how she lived her life, for God and family.
Vogliamo bene mamma e pappa per sempre.