A tribute to our Nonnina, Lina Colosimo (née Adamo), lovingly written by her Granddaughter, Lina Aykler (Colosimo)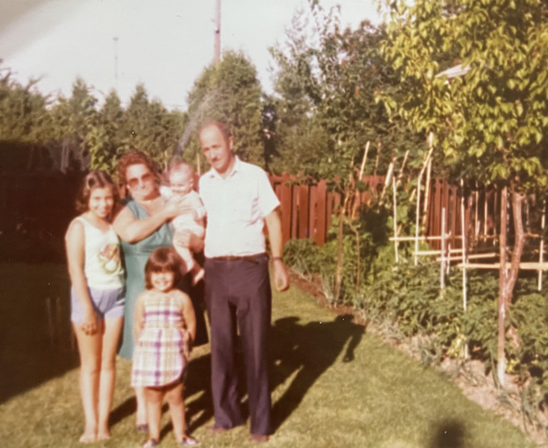 I was named after my beautiful, quiet Nonnina, Lina Colosimo (nee Adamo) and to say she was a huge part of my life, is an understatement. My grandparents lived beside us my whole childhood. Her sister lived on the corner, and her daughter's family (my cousins) lived beside them. All our backyards connected, and it gave my Nonnina access to come to each of our homes, whenever she wanted. The doors were always unlocked, and her Calabrese food was delivered hot from her kitchen to ours. She also brought us fresh fruit from the fruit trees, lettuce, beans ,tomatoes etc. straight from the extensive garden my grandparents tended to and took great pride in. Our houses had no fences built between them, and that garden took up half our backyards ! On the rare occasion that my grandparents were ever angry at us, it was usually because we were caught running and hiding in those enormous bean stocks or kicking our ball into the prize worthy zucchini plants!
Living beside my grandparents was a blessing; we never had a "babysitter" and had the best afterschool snacks. Nonnina would make us fresh, hot French fries whenever we requested! When we were little, there was so much safety in seeing her waiting for us in the school yard to walk us home, and later as teenagers waiting in her front window, for us to get off the TTC. Admittedly, as a teenager, it sometimes felt like a curse to have our family live so close by. Our Nonnina was fiercely protective. I still don't know how she instantly knew (and would arrive at our doorstep) the moment a boy came to the door. I'm sure it was the best 'Neighbourhood Watch' any parent could ask for.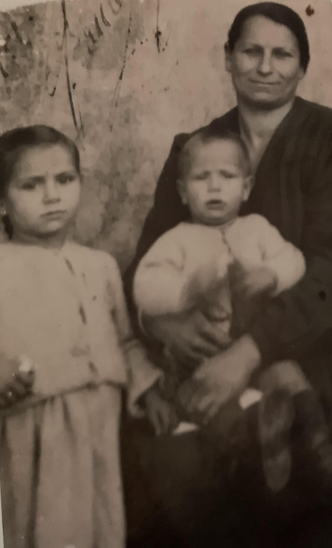 During my university years, she would have coffee and cookies, waiting for me as I pulled into the driveway. She was always worried I was hungry and there was no saying no to food from her! I miss those times with her, and the chats we would have about life. She often told me stories of how my Nonno courted her, but rarely spoke about her life in Italy beyond that. I do know she came from a beautiful house in the city, one that still stands today in her hometown of San Mango D'AQuino, Catanzaro, Calabria. Her father was the Mayor of their small town. However, once she immigrated to Canada, she only travelled back to Italy once to visit her parents; accompanied by my then 17-year-old father. It was a trip he often spoke of and remembered fondly. When I inquired as to why she never thought to return to Italy, she explained to me that she felt that her life was now here in Canada, with her children. She was happy to be a Canadian, and I remember how hard she studied for her Canadian citizenship test; and how proud she was that she knew all the answers to the Canadian geography questions. In Italy, she did not stay in school very long, however; she was very bright and always resourceful. She encouraged my cousins and I to stay in school and wait to get married; she would advise me that there was always time!
My Nonnina was one of the strongest women I ever met, and in my mind, a force to be reckoned with! Whenever I was scared as a child, she was always the first one I called. Even if I was home alone as a teenager, I would often ask her to come over – just to keep me company while my family was out. Looking back, I wonder how I thought this little Italian Nonna would protect me?!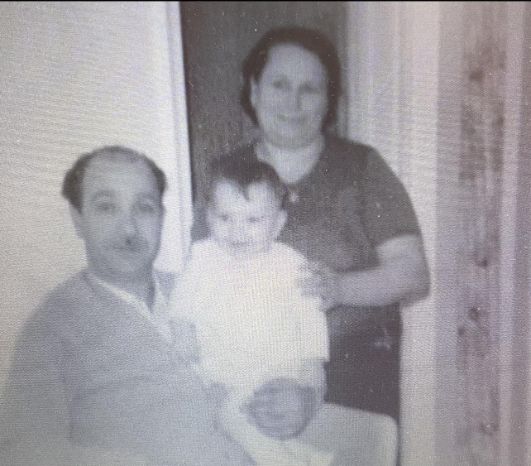 Beyond her physical strength she was also spiritually powerful. She was well versed in removing the curse of "Malocchio". If I had a headache that wouldn't go away, she would do the "Malocchio" prayer for me, reciting prayers in Italian, rubbing my hands and often silently crying if it was "bad". She would then have me drink 3 sips of water and tell me to be strong. I would almost instantly feel better.
She journeyed here to Canada when she was 26 years old; travelling on her own, not knowing any English, with my Aunt, who was 6, and my Father, who was 3. I can't even imagine travelling to a foreign country with small children in tow, not knowing the language, fearlessly embarking on a new life. Her sister and brother's families came next, and much later her Mother. My Nonno Rosario, her husband, had started the chain migration. He came to Canada first, when my Father was still a baby, and worked for a couple years doing every job he could. He started with the Canadian Pacific Railways, then worked in a factory, while selling fruit on the weekends, trying to save money, while my Nonnina stayed in Italy with their children.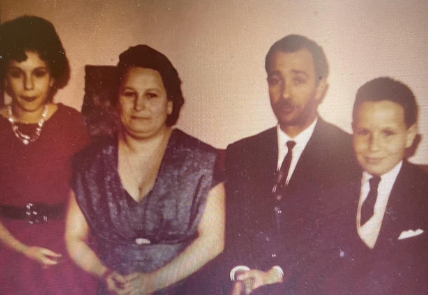 When she arrived in Canada, she began to work as well, to help support the family. First in a sock factory and then with her younger sister Marta, at the Toronto Food Terminal, packing apples. She worked there for nearly 20 years taking the TTC there and back daily. It was hard work, but she was never afraid to work and worked earnestly her whole life.
She retired at 46 years of age so she could watch her grandchildren. One of my most vivid memories of my beloved Nonnina was her hands, they were slightly calloused from years of working in the garden, cooking, and keeping a nice home. In every picture I have with her, she is always holding one of her grandchildren's hands. When we sat beside her on the couch, she would instantly go to grab our hands and hold them while we were talking. It was the most natural and comforting feeling. She always reminded me to be strong and to not let people get to me. She would motion to me from across the room "in one ear, and out the other" if I was getting reprimanded by my parents or was upset about something that had happened that day. When we were little, we would often always ask her to "rub our backs" before falling asleep. They were the best back rubs. Those hands, to me, represented safety, strength, and home.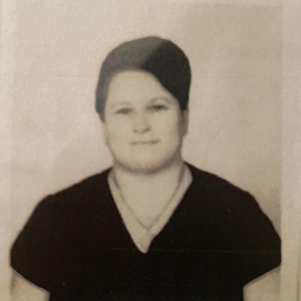 As my grandmother got older and later suffered from Alzheimer's, those hands became softer and softer. She was no longer cooking and tending to the garden, but she still folded them together in her lap, the same way she always had. It was a demure gesture that demonstrated her quiet strength. However, this time it was me holding those hands in mine, rubbing them, reminding her of all the joyful memories we had shared, showing her all the love she had bestowed upon us.
The mix media art piece I made for the InHeritance project: "The Hands that Hold the Home " was created in her honour, constructed with some of the photographs I had captured of our beloved Nonnina. Those hands truly held the heart and home of our Colosimo family and it is upon that quiet strength that our family continues to grow and flourish.