A Tribute to our Mother, lovingly by daughters Aurora Pagano and Lori Spadafora.
There is an Italian saying "Non si nasce donna. Si diventa" (One is not born a woman, but rather you become one).
Our mom certainly set a high standard of that very definition. Named in 1937 in Monte Alto Italy, Elide Viviana was the first born to the Trotta parents. As the eldest, she naturally fell into the role of a 'sister~mom' for her 4 younger siblings, navigating challenging times and enduring personal hardships. Perhaps her caring for them, set in motion the spark to study in preparation for a teaching career.
As a bright and beautiful 20 year old, she had captured the heart of Gildo, a young man from a neighbouring village. Madly in love, Eliduzza eventually became Mrs Pagano, and in 1958 their honeymoon culminated with their immigration to Canada.
The newlyweds hustled and persevered to create their new foundation in Toronto. Elide's humble spirit welcomed factory work where she made men's wallets. This was ironic and an incentive for the young bride who asked to have her meager wages garnished just so that she could afford a wallet to gift her beloved Gildo.
Eventually, Elide entered the school system as a kindergarten assistant; and finally established herself as one of the founding Heritage Language Instructors for the Toronto Catholic District School Board. Here is where she became: 'LA Signora Pagano'. She was highly respected and loved by the hundreds of students, families, and colleagues she worked with. La signora Pagano, left an endearing connection with many communities long after her retirement.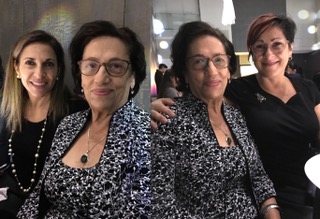 In between her teaching years, Elide became a mother to 3 children. This is where she grew into the role of 'Mamma Bravo'. As her daughters, Lori & I saw many sides of our mom. She was a protective lioness, a strong guiding force; and our personal master teacher… in culinary arts, home management, gardening, cultural affairs, instilled an appreciation for literature and philosophy, the importance of social etiquette, the value of dialogue and relationships; how to be elegant, and how to roll up our sleeves to accept physical work as a rewarding part of life. Our intense bond made us best friends.
As the grandchildren and great grandchildren arrived, Elide became the animated 'Nonna E!' Their caregiver, personal cheerleader, a pillar of strength and their giggling playmate. Her eyes twinkled with pride and utter joy in every moment and milestone she shared with each of them.
Elide and Gildo also had a plethora of friends. Mom was the gracious hostess, the elegant companion, the genuine friend, and the voice of reason for many. She was a Cunning Card player, a competitive bocci player, an inspiring yogi, a poet, a soccer aficionado, an art lover, a travel companion and a joyful adventurer, who savoured the kinship of her dear friends and family.
Mom, you were an extraordinary woman. Your gracious aura and phenomenal spirit have been constant blessings in all of our lives. Every one of us is grateful for how valued you made us feel. Thank you for being an inspiration, and a beacon of light enabling us to see through the chaos in our world. And thank you, for sharing your remarkable gifts and abundant talents with so many of us.
Mom was an avid writer, one of her poems reflecting on our time here on earth.
It's entitled:
Solo di Passaggio
(Just passing through)