As written by her daughter Lia Russo
My mom often recounts the story of her arduous journey from Cerisano, Cosenza to Montreal, Quebec in the year 1961. Sponsored by her sister Ida's husband, Mamma Assunta at the tender age of 21 bade her parents, family and friends goodbye to enter a new world that offered refuge from poverty. Courage, resilience and sacrifice are words that come to mind when thinking of my mom and the thousands that followed the same fate. Leaving your comfort zone to make a new continent home is not something that most in my generation would have the strength of character to do. Her 9-day ocean liner trip to destination Pier 21, Halifax was filled with nausea and fatigue, but this did not deter her from the anticipation of a better life.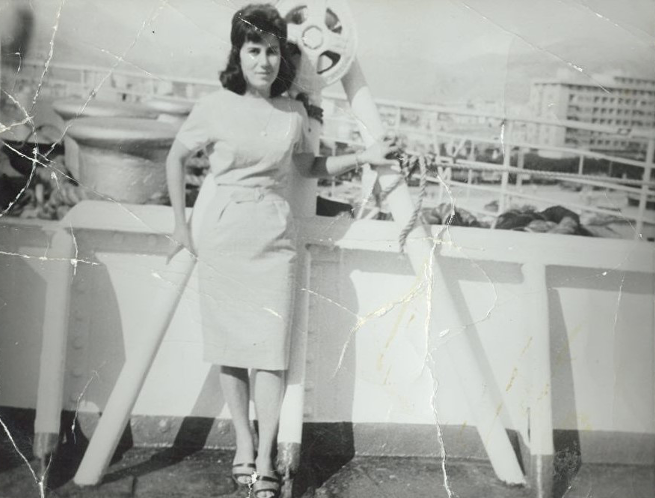 She does not lament her work at the shoe factory cutting leather for shoes at $0.61/hr or the factory work sewing undergarments at $35.00/week. Instead, she proudly announces that she was able to save money! After a hard day of work, she came home to assist her sister with raising the children. Indeed, the English language was a barrier, but she surrounded herself with Italians in a suburb of Montreal. Everyone stayed together on the weekends and learned the meaning of love, unity and companionship. Teaching me the meaning of strong familial bonds filled with love and laughter makes me proud to be her daughter.
By 1964, my mom was married and had a baby on the way shortly thereafter. By the age of 2, I was living in a home that was purchased with money that was saved with an abundance of sacrifice. I owe her gratitude for allowing my brother and I to flourish in a home filled with love and opportunity, never wanting for anything.
My dear mom had the courage to leave her birth home; the resilience to endure the obstacles that immigrants faced; and the fortitude to sacrifice her desires so that her children had the opportunity to better their life. Grazie cara Mamma Assunta!